Drawing Imaginary Landscapes
Fiona Harman
14 Claude St, Burswood

3-week workshop
Wednesdays, 6pm–8pm
July 6–20, 2022
This workshop uses the urban landscapes as a starting point for developing ideas for contemporary drawing practices. Architecture holds traces, memories, attachments and feelings. Our relationship to architectural space is shaped by both our lived experience of the world and the influence of mass culture, film and popular culture. Drawing on these complex associations, drawing can imaginatively explore the atmospherics of architectural space to prompt and provoke a varied array of felt responses and raise questions about our relationship to the world. Each week will build on understandings of how formal aspects of drawing can shift the feel and atmosphere of an image, and how objects and viewpoints can be used to create a sense of something stirring within a scene.
Using a collection of newspaper and magazine images, participants first collage together a composition to then transform into a series of drawings. This can include tracing and free hand drawing. Basic drawing techniques, use of perspective, and a variety of drawing media will be covered. These sessions include discussions about artists who explore the poetics and complexities of architecture in their work to elaborate on possible ways of approaching ideas of place and non-place, feeling and sensation.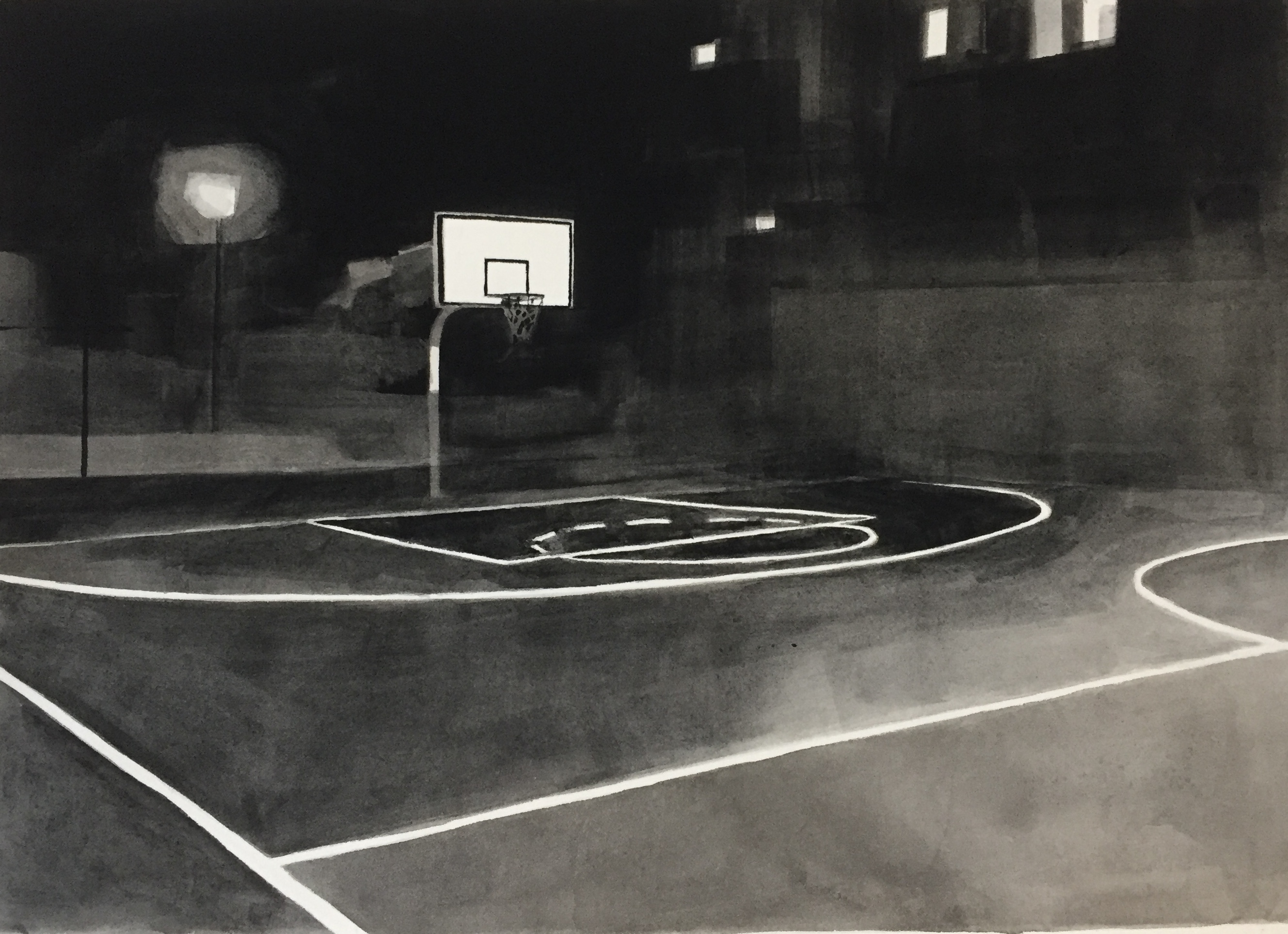 Fiona Harman,
Basketball Court
(2018).
Instructor biography
Dr Fiona Harman is a sessional academic and visual artist interested in the emotive potential of the landscape. She holds a Bachelor of Fine Art with First Class Honours and a creative research PhD from Curtin University. Working across painting and drawing, her work explores the twinned idea of menace and comfort in relation to place and home.